Patients at Chapman Chiropractic Center have reported great relief from back pain, muscle spasms, neck pain, sciatica, disc injuries, tension and migraine headaches, auto-related/whiplash injuries, sports injuries, arthritis pain, carpal tunnel symptoms and other musculoskeletal and stress-related conditions.
Dr. Chapman's thorough chiropractic examination will determine if you are an appropriate candidate for chiropractic care. Her chiropractic evaluation focuses on diagnosing the cause of your pain rather than just treating symptoms. Dr. Chapman and Staff are dedicated to providing safe, effective, evidence-based chiropractic treatment in a comfortable, professional environment.
We specialize in:
Quality Chiropractic Care for You and Your Family
Logan Basic Chiropractic Technique
Activator Methods Chiropractic Technique (Advanced Proficiency Rating)
Individualized Rehabilitative Exercise Programs
***Please call the office (207) 883-9901 to order the CDs***
If pain and stress are preventing you from doing your job, meeting your responsibilities, being your best, staying active and/or enjoying your life, you may benefit from chiropractic care.
Whether you are seeking pain relief, requesting a second opinion about your symptoms or you want to discover new ways to skillfully manage stress and improve your overall health,
Dr. Chapman is dedicated to ensuring that you have every opportunity to realize your potential for good health and well-being. Please call our office today at (207) 883-9901.
Most health insurance plans cover chiropractic care and in the state of Maine, most insurance companies also allow you to self-refer for chiropractic treatment. Please call our office at (207) 883-9901 and ask Melissa or Brenda to verify your chiropractic health insurance benefits.
Because of patient privacy and internet confidentiality issues, Dr. Chapman is unable to answer specific questions about your condition via this website. Instead, we invite you to call our office to schedule a complimentary consultation. (207) 883-9901.
*** All of the information on our website is designed for educational purposes and is not intended for the diagnosis or treatment of any physical, mental or emotional condition. Therefore, this information is not a substitute for appropriate consultation with your healthcare providers. ***
OUR MISSION:

We offer chiropractic care, support, education and inspiration for your good health and well-being so you can more skillfully engage with the stresses and challenges of life as well as more fully enjoy what gives your life meaning and purpose.
"Live with intention, walk to the edge, listen hard, practice wellness, play with abandon, laugh, choose with no regret, continue to learn, appreciate your friends, do what you love, live as if this is all there is" – Mary Anne Radmacher
Chapman Chiropractic Center, P.A.
306 U.S. Route One, Suite 4D
Scarborough, Maine 04074
TEL: (207) 883-9901
FAX: (207) 883-9924
Email:
info@drjoannechapman.com
Administrative Contacts
:
Brenda:
brenda@drjoannechapman.com
Melissa:
melissa@drjoannechapman.com
Office Hours:
Monday
2:30 p.m.
6:30 p.m.
Tuesday
9:00 a.m.
1:00 p.m.
Wednesday
2:30 p.m.
6:30 p.m.
Thursday
2:30 p.m.
6:30 p.m.
Friday
9:00 a.m.
1:00 p.m.
Saturday & Sunday
Dr. Chapman on call for established patients
24 hr. cancellation notice requested..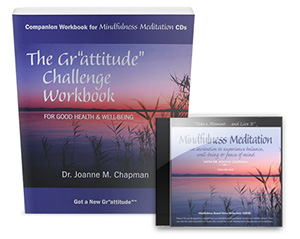 Mindfulness Meditation CDs and our new Gr"attitude" Challenge Workbook are available online!
Please enter a search term to begin your search.
"What is it you plan to do with
your one wild and precious life?"

-Mary Oliver, poet

Care, Support, Education and Inspiration for Your Good Health and Well-Being
Dr. Joanne Chapman, all rights reserved